Grand Finals celebrations aside, this is a massive week for Victorians. The fog of the COVID-19 lockdown and its associated restrictions are beginning to lift. There is a sense of relief and optimism as many businesses in the state cautiously open their doors after long weeks of inactivity. Some buildings will have chosen to hibernate their heating and cooling plant systems in the interest of reducing their operating costs and will need to restart them.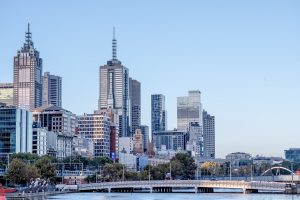 Water treatment specialists HydroChem service many public and private buildings throughout the state and CEO, Mike Lenton, is sounding a note of caution that has nothing to do with the coronavirus.
"The stagnation of water within buildings is generally prevented by normal day-to-day activity that introduces fresh water into the system and causes it to recirculate naturally' says Lenton. "Its simple, when water sits idle in a building for an extended period of time it stagnates. This can lead to the accelerated growth of microorganisms and pathogens, including Legionella, which obviously pose a health risk to the occupants."
For water distribution systems flushing is the first step in the remedial work to be undertaken. This will ensure a good turnover of water through the system. It is vitally important that all available outlets are flushed, including basins, toilets, instant hot water systems, coffee machines, showers, irrigation hoses and any downstream outlets on the pipework where stagnation may have occurred.
"It is really important to verify the efficacy of the flushing," continues Lenton. "This will validate that Legionella growth is under control and also inform any remedial action required to prevent future colonisation."
"It is essential to have a plan in place to deal with isolated positive microbial detections, most of which can be dealt with localised remedial action. In the event of systematic detections, a full site disinfection may be required."
Cooling tower systems are acknowledged as equipment that poses a clear risk where Legionella growth is concerned. The Public Health and Wellbeing Regulations, administered by the Department of Health and Human Services (DHHS) on behalf of the Victorian State Government, offer clear guidance when it comes to restarting cooling tower systems.
The regulations require any system that has been inactive for a period of more than one month to be treated as follows:
A chlorine-compatible bio-dispersant must be added to the recirculating water.
The recirculating water must be disinfected.
The interior of each cooling tower in the system must be cleaned.
The recirculating water must be disinfected again.
"HydroChem has worked with its customer base to develop appropriate, individual, risk management plans for their sites for many years," continues Lenton. "These are precisely the kind of scenarios the plans are developed to address. Managing risk is part and parcel of helping our customers to ensure they provide a safe environment for their building occupants to live, learn, play and recuperate."
"The HydroChem brand has been around for over 40 years. People trust our advice, appreciate our technical expertise and value our service," concludes Lenton proudly.
For technical advice and assistance regarding your own system, please contact your account manager or our experienced team on 1300 558 788.