Are you ready to experience Clarity?
At HydroChem we are always busy servicing your water systems to minimise risks to human health and maximise asset performance and longevity - this is how we reduce your total cost of operation. As part of this service, we collect data across a range of categories to assess how your systems are performing.
Clarity has been developed to collate all of your data points into one easy to read and understand application.
From exploration to action, Clarity helps you manage the water health of all your assets, faster and smarter.
This is just the beginning. We plan to continue working with our customers to make Clarity a powerful and productive platform for all. We can't wait to see what's possible.
Download Brochure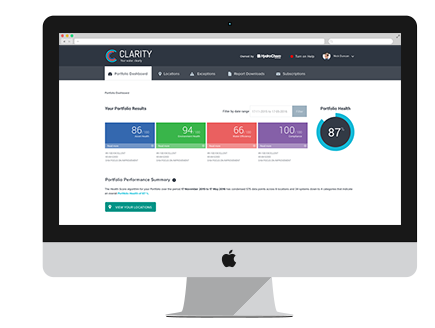 The first screen you'll see when you enter Clarity is your portfolio health dashboard. Your complete portfolio results are displayed clearly – Asset Health, Environment Health, Water Efficiency and Compliance. Each is clearly ranked out of 100. These 4 elements combine to provide an overall Portfolio Health score. Allowing users to quickly view their entire portfolio health at a glance, you can then drill down into specific asset details.
Identify and Address Critical Issues
Visit the exception reporting tab to view the major exceptions across all locations and assets, easily filtered by date. Users can quickly identify the main factors not within acceptable parameters, and take immediate action to help minimise or resolve exceptions.
Eliminating the need to review countless reports, Clarity's smart functionality will save you countless hours.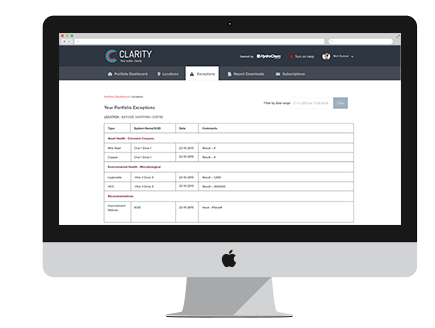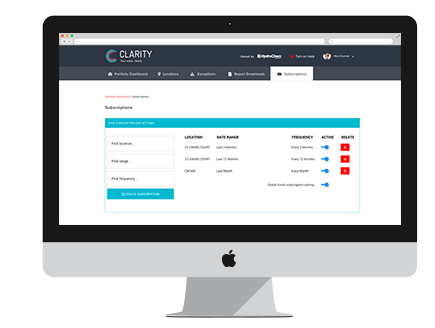 Save and Schedule Reports - Anywhere, Anytime
Clarity delivers expanded reporting capabilities to ensure you always have access to the information you need, when you need it. Visit the reporting dashboard to get fast access to reports, in all locations and for all assets. Then filter by location and date to download your PDF reports individually or as one complete zip file.
Reports Delivered, like Clockwork, to Your Inbox
Head to the subscription tab to create your report subscriptions. Simply select your desired report then set by location, date range and frequency. Once set up, your reports will run at specific intervals, and will arrive on time in your inbox.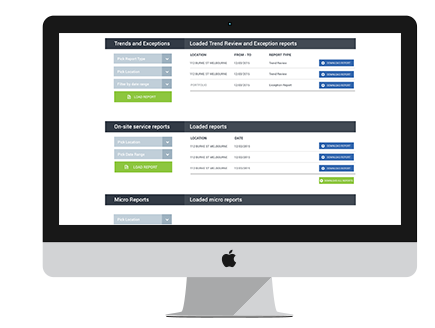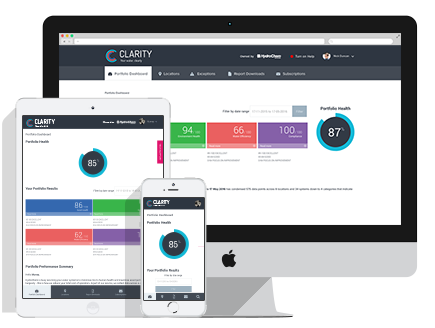 Available on All Devices
Clarity was designed with ease of use in mind. No matter what device you choose to use, Clarity will display your data effortlessly.
This means when you are out in the field, on the road or at your desk you will be able to log in, view the health of your portfolio and download all of your reports.
Want an invite? Register your interest for Clarity.
Close
Always know what's happening
Clare is a busy facility manager. She doesn't have time to review multiple reports to assess the overall health of her portfolio, but she does need to ensure she is minimising the risks to environmental health and the assets she manages.
Now she can log into Clarity and view all her portfolio health in just a few seconds before drilling down to find the issues.
Clare is now prioritising her time so that she can focus on other priority tasks.
Close
"Just tell me what needs fixing..."
Oscar heads-up the facilities team for one of Australia's largest shopping centre portfolios. Overseeing the management of 46 centres, he is responsible for 467 assets that are serviced by HydroChem. If anything goes wrong the problem must be fixed ASAP. That means Oscar needs to be aware of any issue so that he can take immediate action. After all, Oscar is a fixer.
With Clarity, Oscar can virtually eliminate the time required to sift through extensive reports and large sets of data and information in order to identify problem areas. He can now log in and view all asset exceptions in just one click.
Now Oscar's time can be dedicated to more productive activities than time spent going through reports.
Close
All your reports in a few clicks
Eliza is the Director of Facilities of a large hospital group with assets located across numerous buildings within the metropolitan area. The CBD is experiencing a legionella outbreak and the health department has urgently requested six-months of detailed reports from all the cooling towers she manages.
Happy to help, Eliza logs into Clarity, selects all her locations and the requested timeframe, and hits "Load Report". The resulting zip file is given a once-over before being sent off to the health authorities within ten minutes of their initial request.
Now that's lightning fast compliance.
Close
Making Your Working Life That Little Bit Easier
As an engineering manager for a large manufacturer, Stephano has to make sure the assets he manages are compliant, and just as importantly, running efficiently. He must stay on top of everything. Planning, budgeting, operations, management, sustainability and leadership are just a few of the areas he dips his toe into on a daily basis.
With Clarity, he knows that he can keep in touch with each of his assets at a high level. When Stephano first logged into Clarity he scheduled his reports and now they arrive as scheduled.
Close
Access Anywhere, Anytime
Harry is on the senior management team of a large property portfolio. His job keeps him on the go throughout the day.
With Clarity he is able to report on building matters while out and about thanks to Clarity's ability to work across desktops, laptops, smart phones and tablets. Wherever he is located, Harry can check in on the health of the facility in real-time and gain actionable insights.
Registration Failed
Thanks, we are experiencing an issue registering your account.
An email has been sent to our IT department and a member of our team will be in contact shortly.