Back to work with Safe Work Australia recommendations.
A big "well done and thank you" to the Australian community for its efforts in flattening the curve. There have been challenges but the results speak for themselves.
The Australian Government is now preparing for our return to work over the next few weeks. With increased circulation and activity, we need to work together to avoid a second wave of infection.
A safe workplace
All workers have the right to a healthy and safe working environment. Safe Work Australia has prepared guidance material on returning to work.
One significant aspect of returning to work is that employers provide appropriate cleaning and disinfecting measures.
Promote good health and hygiene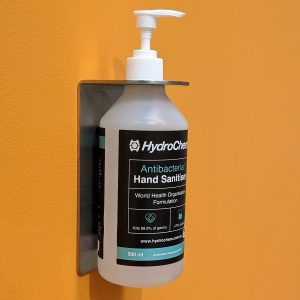 Safe Work Australia recommends hand sanitiser stations be installed at:
Entry and exit points to the workplace
Entry and exit points to common areas
Areas that have high touchpoints or high traffic flows
For example, around the photocopier, near lifts
HydroChem can assist. We have stocks of hand sanitiser and wall brackets.
World Health Organisation Formulation
The World Health Organisation (WHO) recommends using an alcohol-based hand sanitiser to prevent spreading COVID-19 and protection from the spread of germs.
HydroChem have adopted the WHO hand sanitiser formulation. Our product is >75% alcohol, which is the active ingredient that kills 99.9% of germs.
Made in Melbourne, in stock >> ready to be shipped throughout Australia

Our hand sanitiser has been manufactured to AS/NZS ISO 9001:2016 Australian standards and brought to life in our AS/NZS ISO 9001:2016 accredited facility in Melbourne.
HydroChem are proud to have supported local manufacturers for more than 40 years. In times of crisis, it is the long established relationships of trust with our local partners and suppliers that allows us to continue supplying our community.
Stay safe and healthy.
Nick Duncan, CEO