Legionella bacteria can proliferate in stagnant pipework. Facility managers must be diligent to ensure they minimise the risk of a Legionnaires' disease outbreak on restarting any facility that has been partially or fully shutdown.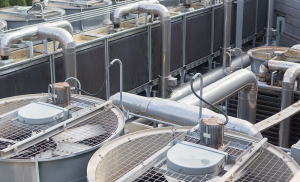 Australia's coronavirus suppression strategies have successfully controlled the escalation of COVID-19 cases. The suppression measures resulted in the shutdown of many buildings including clubs, hotels, restaurants and sports facilities. In addition, many commercial facilities moved from full occupancy at the start of March to minimal occupancy for the past 4-6 weeks.
Australia has experienced several Legionnaires' disease outbreaks associated with cooling tower systems (for example, Melbourne Aquarium). HydroChem's CEO, Nicholas Duncan, commented that:
"Ideally, facilities should have placed their cooling water systems into hibernation, providing ongoing disinfection to minimise the risk of Legionella growth within pipework. If not, the managers of those facilities must take additional precautions on restarting their cooling systems"
There have also been Legionnaires' disease outbreaks in Australia associated with a building's water distribution system (for example, Wesley Hospital). Mr Duncan commented that:
"Buildings that have been partially or fully shutdown for more than a week are likely to have stagnant water in the pipework that distributes water to taps, showers and ice machines. This water presents a risk of propagating Legionella. We also need to be especially mindful of people at a higher risk of contracting Legionnaires' disease – such as people who are immunocompromised or have pre-existing health conditions. We recommend all water distribution systems are flushed before use and Legionella testing is conducted to identify any compromised systems."
As buildings are reoccupied and pedestrian activity increases, it is important that water systems are properly recommissioned and tested to mitigate the risk from Legionella that may have developed during the shut-down.
Legionnaire's disease presents similar symptoms to COVID-19 such as fever, cough, shortness of breath and potentially fatal pneumonia.
Recommendations for cooling water systems:
Preferably, cooling water systems should be in "hibernation", not shutdown
If not in hibernation, all pipework and equipment must be fully drained
Prior to start-up of any cooling water system, a cooling tower clean must be conducted and care must be taken to disinfect all system water
Recommendations for water distribution systems:
Prior to facilities being opened for use, all water outlets should be flushed for at least 3 minutes each
Legionella testing should be conducted to ensure pipework has not been colonised by Legionella during periods of stagnancy
For more information, please contact the team at HydroChem on 1300 558 788.