TMV work now in a class all of its own
In November 2019, the Victorian Building Authority (VBA) introduced regulations in Victoria making it mandatory for a thermostatic mixing valve (TMV) to be inspected, tested and commissioned every 12 months. A TMV is a valve that blends hot and cold water to ensure safe and constant, outlet temperatures.  The thermostatic component must also be replaced every five years.
The VBA simultaneously introduced a new specialised class of work that includes the repair, alteration, maintenance and testing of TMV's. The work must be undertaken by licensed plumbers who are required to register for the specialisation and meet the units of competency for TMV work, i.e., Commission and maintain hot and heated water temperature control devices (CPCPWT4023A).
The overriding reason to install and equally importantly, test and maintain TMV's, is that they dramatically reduce the possibility of hot water scalding. According to the Public Health Association of Australia, over 90% of scalds are sustained in the bathroom, primarily due to immersion in baths containing water heated to unsafe temperatures. The very young and the elderly are particularly susceptible to scalding injuries.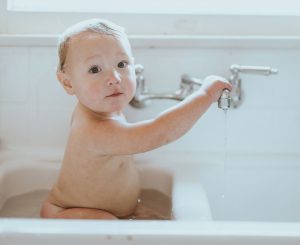 The higher the water temperature the shorter the exposure time required to produce a third-degree burn. At 70°C a third-degree burn will occur in less than one second, at 60°C it is around five seconds and at 50°C it will take just five minutes of exposure to produce a third-degree burn.
Hot water scalds have been shown to be largely preventable. This can be done by reducing the temperature of water delivery from hot taps via TMV valves.
Microbial growth such as Legionella bacteria can proliferate in warm water piping systems beyond the TMV. This is particularly true of systems that are not regularly used or incorporate "dead legs" and are neither frequently nor adequately flushed. Older and more complex systems, where the outlets are a long way from the heating or disinfection points, pose a similar risk.
HydroChem has inhouse, qualified personnel who undertake TMV inspections and testing across a raft of commercial, health and aged care sites throughout the state. The company is also Australia's leading provider of Legionella management services nationally.
For more information regarding HydroChem TMV maintenance and testing, please contact Mark Scarpella on 0407 804 892 or via email at mark.scarpella@hydrochem.com.au