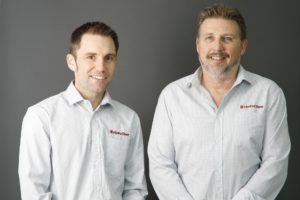 Tim Brumby, Water Risk Management Consultant joins the HydroChem team.
Tim, a water industry-renowned risk management specialist, has provided advisory services in microbial risk and corrosion control for water systems at health, industrial, commercial, retail and institutional properties around Australia for over ten years.
Pictured with Gavin Richardson, QLD State Manager, Tim's technical knowledge and experience will be an asset for HydroChem and our customers, providing best-in-class water treatment service solutions.