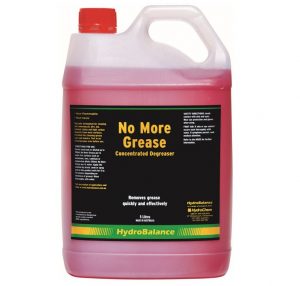 Overview
Non-toxic, non-flammable concentrated degreaser.
Description
No More Grease is specifically formulated for cleaning and removing oil, dirt, ink, exhaust stains and light carbon deposits from most surfaces. Excellent for cleaning greasy coils, motors and refrigeration parts. No More Grease removes grease and grime quickly and effectively. Other applications include components of vehicle detailing, spot staining carpets and glue residuals.
Directions for Use
Can be used neat or diluted up to 100mL of No More Grease per 1L of water. For surfaces such as aluminium, zinc, cadmium or magnesium dilute 250mL of No More Grease per 1L of water. Apply the solution by brush, swab or spray and let the product work for 5 to 10 minutes (depending on thickness of grease). Rinse thoroughly with water. For best results on greasy surfaces use and rinse with hot water. Avoid use on painted surfaces.
Pack Size
5 Litres
Safety Information
This product is not considered a dangerous goods under current ADG regulations. Avoid contact with skin and eyes. Wear eye protection and gloves when using. First Aid: if skin or eye contact occurs, wash thoroughly with water. If symptoms persist, seek medical attention. Refer to the SDS for further information.
Purchase Online
We have this product available in our e-shop, so you can get it directly from the warehouse. Just click the button below and order it.