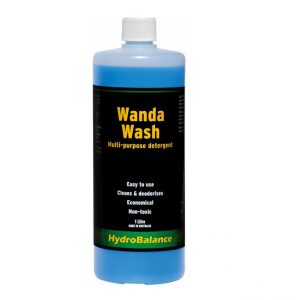 Overview
Economical and easy-to-use multi-purpose detergent. Cleans and deodorises. Non-toxic.
Description
Wanda Wash is a concentrated universal cleaner for use on all dirty surfaces, including air filter material. A specially formulated, biodegradable product, Wanda Wash contains a complex blend of phosphates and surfactants. Wanda Wash is also useful for cleaning external paintwork, vehicles detailing, cleaning cloth seats or to shampoo carpets
Directions for Use
For moderate cleaning, dilute 50mL of Wanda Wash per 1L of water. For heavy duty cleaning, dilute 100mL of Wanda Wash to 1L of water. Rinse thoroughly with water after use.
Pack Size
1L bottle
Product Tips
If cleaning mould growth and dealing with foul odours, consider post treatment with 4M, a broad-spectrum multi-pirpose biocide. Refer to product bulletin for instructions.
Safety Information
This product is not considered a dangerous goods under the current ADG regulations. Avoid contact with skin and eyes. Wear eye protection and gloves when using. First Aid: If skin or eye contact occurs, wash thoroughly with water. If symptoms persist, seek medical attention. Refer to the SDS for further information.
Purchase Online
We have this product available in our e-shop, so you can get it directly from the warehouse. Just click the button below and order it.